A Photo To Know More About Diesel Engine Generator
Views:0 Author:Site Editor Publish Time: 2016-04-27 Origin:Site
Diesel generator set is used as back up power supplying in many fields,specially used as mains power supplying in some places where lack of electricity.You may see or operate a diesel generator, but do you really understand what is diesel generator set?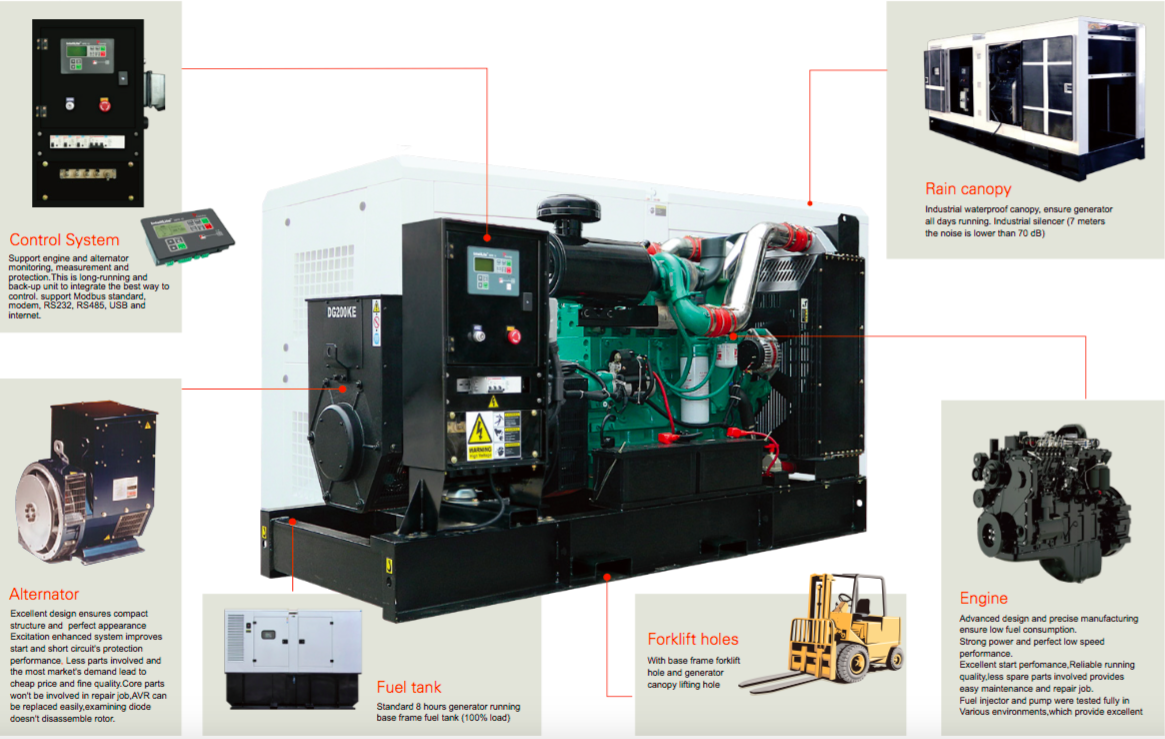 The brand of diesel generator we mentioned,such as Cummins,Perkins,Mitsubishi,Volvo,Doosan etc are in fact referring to the diesel engine brand.The diesel engine which produce mechanical energy is the most important part of a complete diesel generator set. Besides of diesel engine,the entire diesel generator set includes alternator,base frame,radiator,controller,output MCCB circuit,muffler,starting battery and other components.Because diesel engines are determining the overall power generating generators, so usually we will simply name a diesel generator with its diesel engine brand.
Alternator which produce electricity engery in a complete diesel generator set is also very importatnt as diesel engine.For 50Hz industrial voltage could be 400/230V,380/220V,415/240V,For 60Hz industry 3 Phase voltage could be 200/127V,208/120V,440/254V,480/277V etc,also 690V or high voltage 6.3KV,10.5KV,11KV is avaialble.Normally we adopt brand STAMFORD,LEROY-SOMER,MECC ALTE,MARATHON etc as its standards alternator.You could select as u wish.
Controller as another important part of a diesel generator,not only start or stop,also display & protecting function needed.we have many models controller for different use include unit generator controller,multi generator parallel controller,controller with AMF,remote controller etc.In SUTER POWER,we adopt Harsen,ComAp,Deepsea as standard controller.
More probably it introduced several important components of the diesel generator set,hoping that you choose to provide more help for their own generator sets.